10 Great Uses of Milk Crates You've Probably Never Thought Of!
You've probably seen plastic milk crates in stores and never given them a second thought…. until now. Plastic crates are one of the hottest items in home decor because of the strength and versatility they offer. As well as being used for stackable storage, there's also a wide variety of more creative uses that could liven up any room.
You can't simply take plastic crates from your local store; this is illegal and could land with a very hefty fine. However, you can buy milk crates online at a very low cost, and what's more, you can even pick the color you want! With this in mind, here are 10 great uses for milk crates that you've probably never considered before.
1) Using a milk crate on a bike
Milk crates and bikes might not seem like the obvious pairing but they're an extremely popular combination.
When you're cycling, storage can be a problem unless you've already got panniers for the back of your bike. For most cyclists, panniers are an expensive indulgence and not something that they could easily splash out on, leaving the dilemma of how to carry stuff when you're cycling.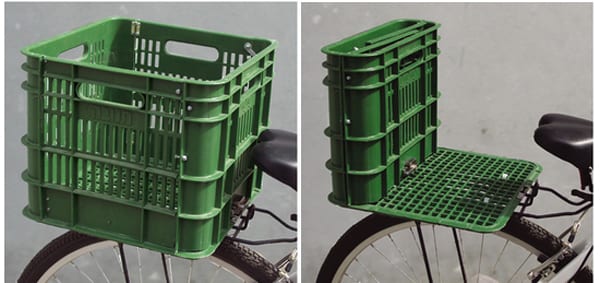 Placing items in a backpack is one option but this can leave you unbalanced, not ideal for when you're pedaling along the street. However, milk crates provide another option, providing a stable and secure form of storage which won't break the bank.
Also known as a cratie, the plastic crate rests on the back of the bike, behind the saddle but above the wheel. It's not compatible with every design as it's essential not to impede the way the wheel turns. You'll therefore need some kind of rear rack already mounted that you can secure your cratie to. If you don't have a rear rack it's relatively cheap and easy to pick one up, and no more than a few brackets to secure it in position.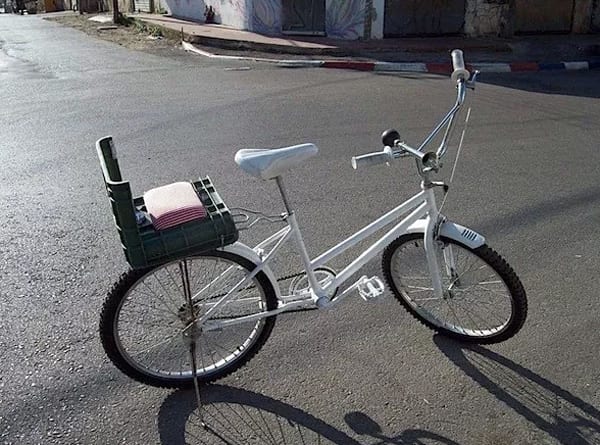 Once you have everything assembled and ready to fix into position, some zip ties are the final piece of the puzzle. Used properly, these kinds of hard plastic safety ties will hold the crate securely in position for as long as you need it.
Using a milk crate on a bike is cheap, cheerful and effective, and so easy to make that anyone could do it.
2) How to use milk crates for storage
Milk crates were designed to store dairy products in the very first instance so it makes perfect sense that they would work well to store other things too!
These plastic crates are the perfect natural shape for storage without being too large and cumbersome. One of the big advantages to using milk crates is that you have the option of either creating a small amount of storage or a larger area. This is because milk crates can stack together particularly well, and can be cable-tied for additional strength.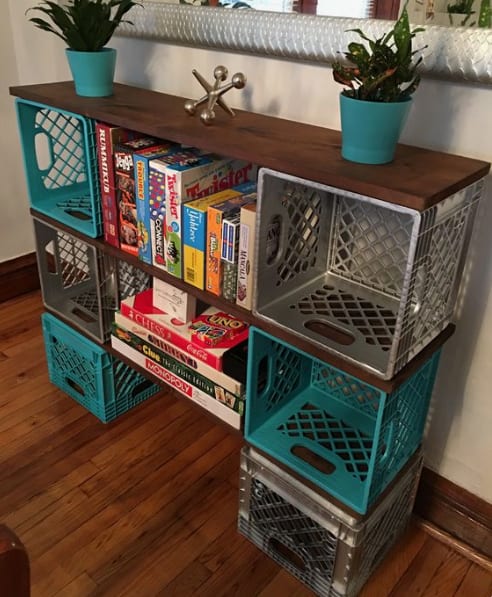 If you're looking for storage in your own home, milk crates can be stacked on top of each other. This works well for longer term storage where the items won't be needed regularly. However if you're likely to need frequent access to each of the crates you could stack them on their side instead.
This kind of honeycomb effect can be perfect for groups or schools as it doesn't take up much floorspace, instead using vertical room.
3) Creating a milk crate trolley
If you regularly have to cart heavy items around, you may well use a trolley.
Sack trolleys in particular are useful when moving weighty belongings and take minimal effort compared to other designs. However the problem with sack trolleys is that items can fall off easily as there's no way of holding them in place.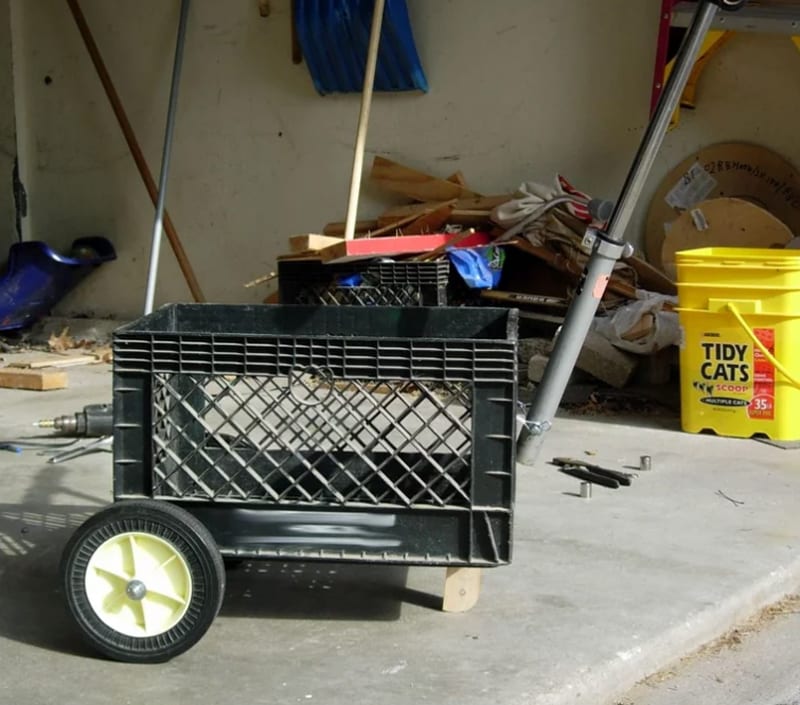 By combining a sack trolley and a milk crate, it's possible to create a far more useable means of transporting heavy goods. Plastic milk crates are heavyweight, with reinforced corners and sides which are designed to hold their shape. Dairy products aren't lightweight so the crates are manufactured to be capable of transporting heavy goods.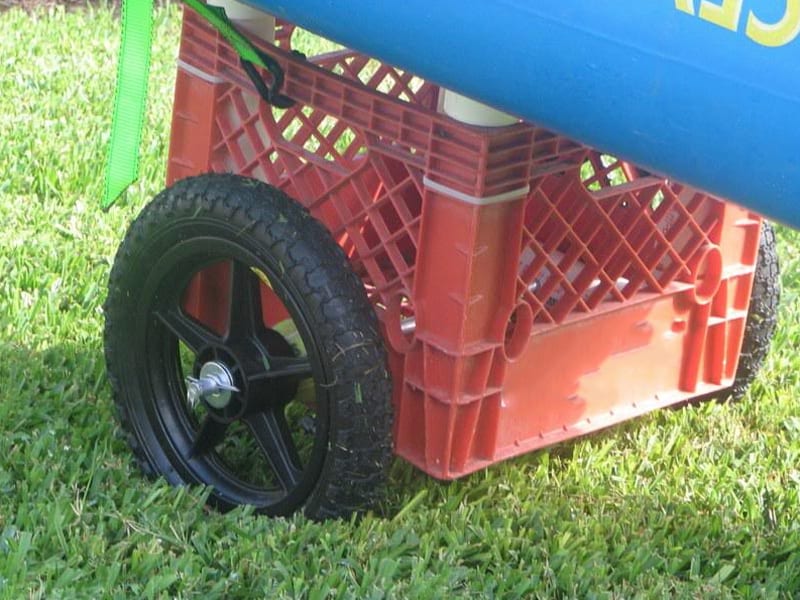 By attaching a milk crate to a sack trolley, it's possible to get the best of both worlds. The ease of sack trolley transportation combined with the flexibility of a crate, allowing even awkwardly shaped items to be carried around with ease.
4) Milk crate rack
If you have plenty of space on the wall, you could opt for a milk crate rack for storage which is just that little bit different.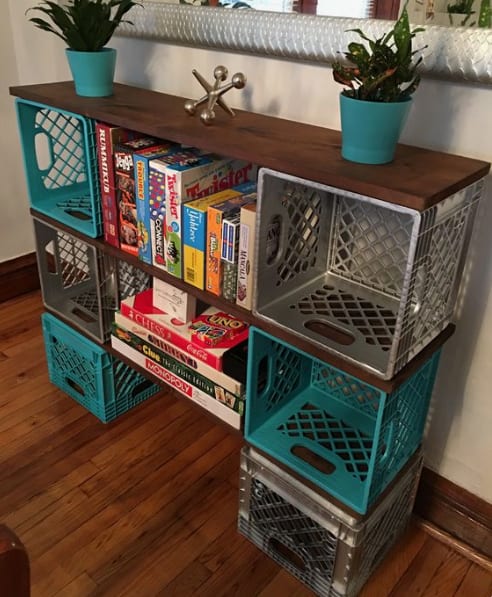 Crates are tough and strong and you won't need advanced DIY skills to pair them with some fittings to attach them to the wall. Make sure you attach them securely so they are robust and strong as this will then provide storage in a head height rack, perfect for sports gear or wet weather accessories.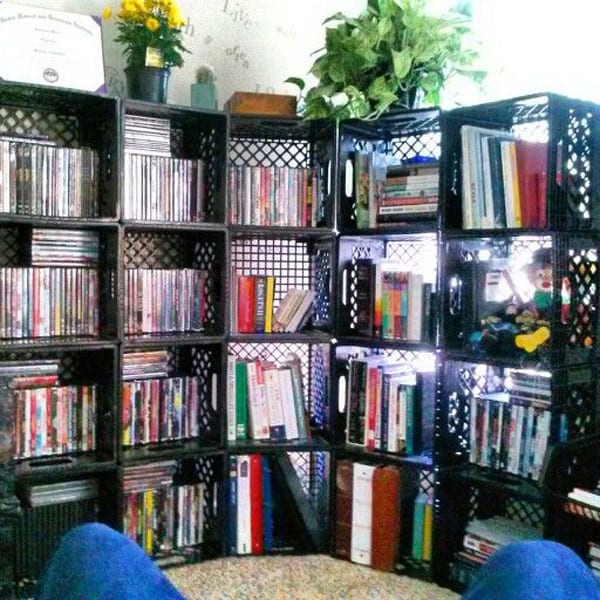 But there's far more than just the inner contents of the crate, you can also utilize the outside too. By fixing coat pegs to the front, you can create a milk crate rack which doubles up as a coat rack.
5) Using a milk crate organizer
A milk crate provides a lot of space but there may be times when you don't want to store bulky items. Milk crates also offer flexible storage for smaller items too, but to prevent everything getting in a jumble you'll need some extra organization.
How you choose to make a milk crate organizer is up to you, as it's possible to create a simple or a more complex version.
At its most basic level all you need to do is purchase some inserts which will separate the crate into sections. You could use pieces of wood or you could buy plastic inserts instead. There are lots of types of organizer inners which are up for sale, typically used to help keep drawers tidy. If you check out supplies for hairdressers and beauticians, you'll have even more organizer options to use.
If you are nifty with a sewing machine you could supplement your plastic inners with a fabric outer. It's a great way to use up scraps of material by sewing on contrasting pockets and you'll be left with a fantastic milk crate organizer with plenty of room for your smaller items.
6) Making a milk crate dresser
Dressers are an extremely practical piece of furniture, providing helpful storage that's easily accessible. However, over time drawers can break or other parts of the runners can become worn. A great way to bring a traditional dresser bang up to date is by using milk crates.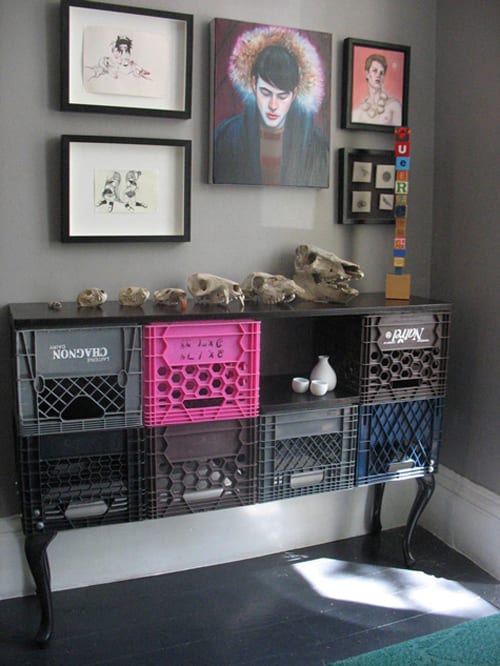 It may not be the first item you'd think of up cycling with milk crates, but when you see it done, it works extremely well. The old-fashioned dresser instantly looks funky and new, and looks at home in apartments which have a retro cool decor.
How you create your milk crate dresser depends on the size of the frame, but you'll probably have a wooden shelf separating where the two shelves lay and those at the bottom. If you don't have a separator, it doesn't matter as milk crates are secure when stacked.
You won't need runners for this type of dresser so no need to worry about fittings. Simply stash your crates into the dresser frame; most dressers can accommodate two rows of crates. If you have a separating shelf, there's a natural divide and you may not even need a lid. If there's no shelf, you'll need to make sure the crate on the bottom row is fitted with a lid for secure stacking.
If there's a bit of spare room, that's fine as the milk crates don't have to fit snugly into a dresser. In fact, you can even choose to create a bit of space between your crates to make a decorative area for ornaments or photo frames.
7) Using milk crates for kids
Although it's possible to use milk crates all over the home, they're particularly useful if you're a family with children. No matter how big your home is, the chances are you're always running short on organized space for your children's things!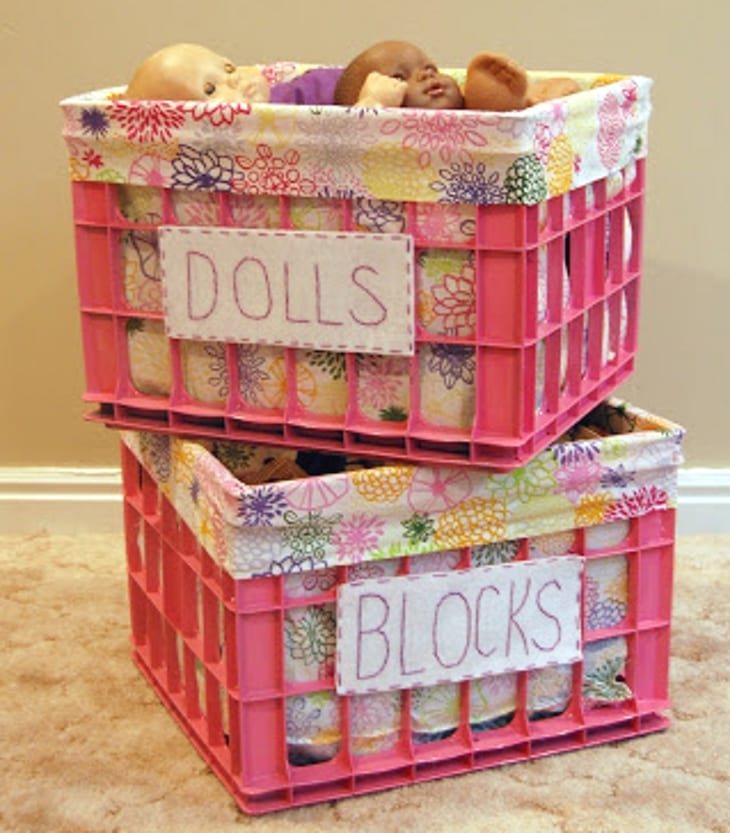 Experts recognize that it's a good idea to encourage your children to get involved in chores at an early age, and this starts with being able to clear away their own toys. However, if they can't reach the storage, they won't be able to take responsibility and learn a valuable skill.
This is where crates are ideal for kids. Strong, practical and robust, you don't need to worry about damage to the plastic as the crates are tough enough to withstand a child's touch.
As your child grows older, the crate can be easily maneuvered courtesy of the grip handles at either end and the overall size.
The other benefit to using milk crates for kids is that they're very portable. Do they want to play with their cars in the conservatory? Or maybe the garden? No problem! Milk crates are extremely sturdy and designed to transport heavy items around. This gives you the ultimate portable toy box. If you're feeling crafty you could even fit some castors to the bottom to make it easier to wheel from one room to the next.
8) A simple milk crate bookcase
One of the primary uses for milk crates is to provide storage and there's little than's more demanding on space than books. Whether you have 1 book or 100, it's possible to create eye-catching book-cases with nothing more than a few milk crates.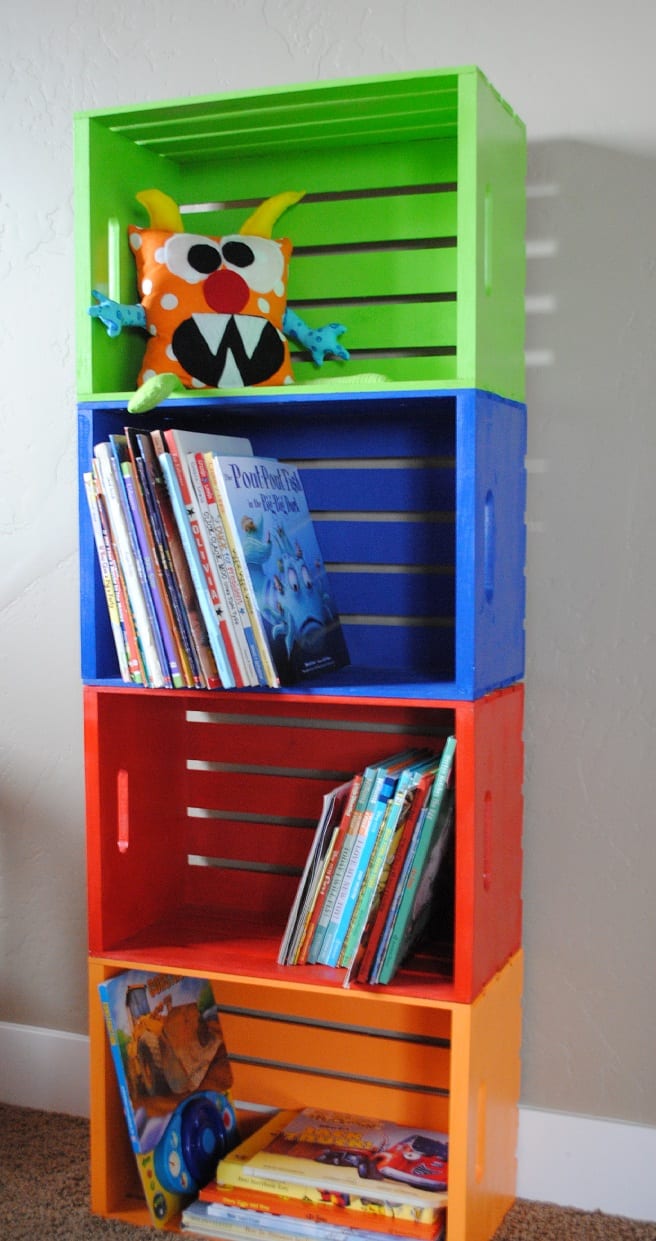 Milk crates are stackable and provide plenty of room for storing items inside. When stacked on their side, this provides the ideal space for books. If your tomes are smaller paperbacks, you might only need half the height. Using the grip handles as a means of sliding through a divider, you can organize each crate into two separate "shelves".
When buying bookcases it can sometimes be tricky to know how big to buy. You won't want a towering case if half the shelves are empty but equally, running out of room can be very frustrating. Bookcases made from milk crates never have this problem because if you need more shelves, you can just add on another crate.
Depending on how many crates you stack up, and the number of books inside each one, you might find it's useful to tether your milk crates to the wall via a hook. This may not be necessary but provides extra strength if needed.
You can choose milk crate bookcases wherever you need them, including the kids' bedrooms. Making reading fun is essential to encourage your child to read and having their own bookcase can be very appealing. Plastic crates are available in a wide range of colors so it's possible to choose tones which your child will love. Bright, colorful and eye-catching, milk crates are the perfect match for your child's bedroom or playroom.
Elsewhere in the house you can be subtler with your use of milk crate design, using neutral colors for a muted look. Alternatively, you could well decide to immerse yourself in the kitsch appeal and opt for crazy colors all over your home!
9) Milk crate cushions
Milk crates make very sturdy stools but with a hard plastic ridged edge, they're not particularly comfortable to sit on. However, there is a way to make them comfier without compromising their strength and rigidity.
It's possible to add padding to the top of the crate; this creates a stool that has storage as well as being much softer to the touch. You don't need to be a master upholsterer to make one; a glue gun, wood, some pretty material and foam padding is more or less all you need.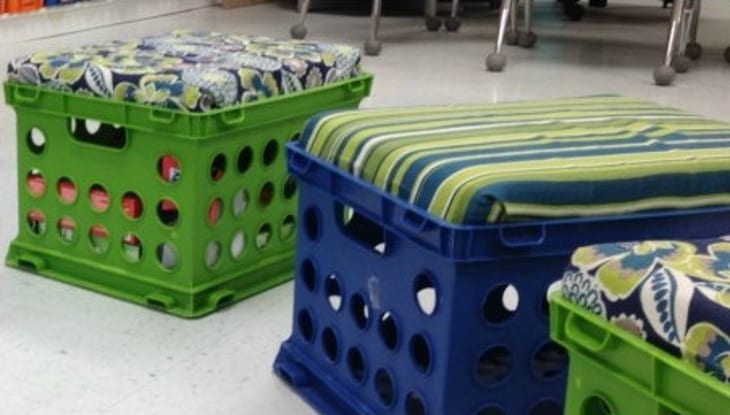 There are plenty of tutorials online but in a nutshell, you simply cut the wood to sit on the inner rim of the milk crate, top it with the padding and then glue the fabric over the top. If you want to make your plastic crate look a little bit smarter you could go one step further by wrapping it in sisal rope.
The neutral color of sisal rope works particularly well as it allows you to choose a wide range of colors or patterns on the top without any patterns clashing.
The final step is to create a handle, either using a small strip of fabric or the sisal rope and attach it to the top of your crate cushion. This will allow it to easily lift off when needed, providing instant access to the contents of the crate.
Once you've made your cushions for your milk crate you can use it in various areas within your home, such as in the hallway for portable yet convenient storage with seating.
10) The trend for milk crate decor
Plastic milk crates have a very contemporary appeal but as well as looking fresh and modern, they also are very practical. Manufactured to be able to hold heavy loads of dairy products makes them tough enough to use for a wide variety of purposes.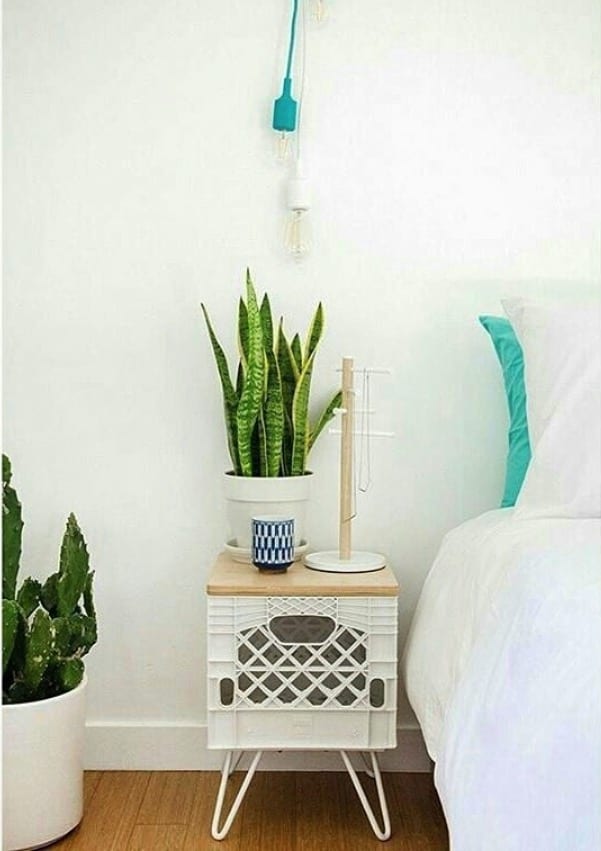 It's easy to create a wide range of furniture with milk crates and you'll save a small fortune in the process too. No matter what room you're decorating, milk crates can add an interesting aspect to your decor.
With plastic crates, you can create furniture that is exactly the size you need. Crates are stackable and nestable so there's the option to go bigger if you so choose.
There are so many different types of decor that milk crates can be used for, from lamp shades to wall fittings and everything in between!
If you are a DIY enthusiast or a keen crafter, there are even more possibilities open as with a little tweak here and there it's possible to extend your horizons further.
As a piece of re-usable plastic, milk crates are an eco-friendly option and will save you money too. A real win/win situation, milk crate decor looks fun and interesting while being the green choice too.
More options too!
The above 10 ideas will leave you itching to buy milk crates to get creative but there are plenty more things you can make too. Get your thinking cap on and your glue gun out and see what other uses for a milk crate you can come up with!