How to Create the Best Milk Crate Shelves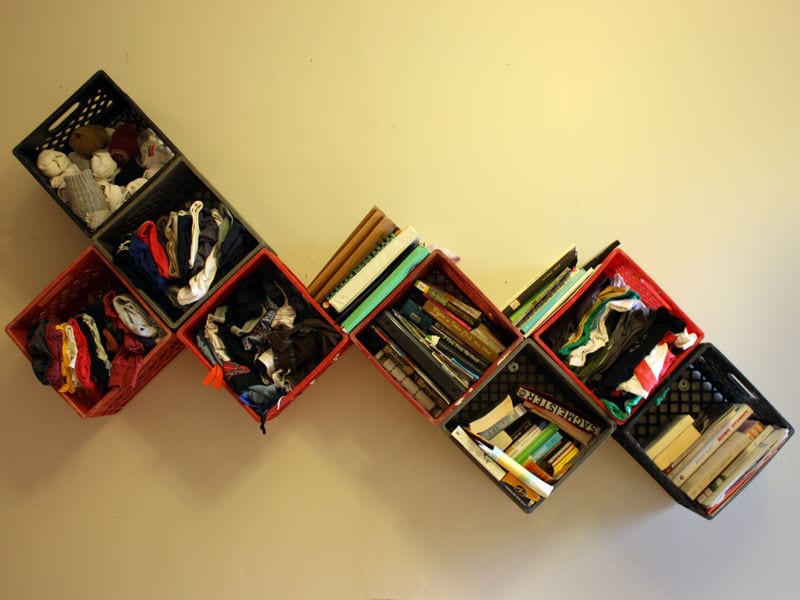 If you're looking to create more storage in your home, shelving offers the ideal solution. A great way to keep your items accessible but tidy, shelving can also be perfect for display purposes too.
However, shelving can be not only expensive but also difficult to put together, particularly if you need a lot of it.
An alternative to conventional shelving is the use of milk crates. Cost-effective, contemporary and easy to assemble, milk crates make attractive and modern shelving. There's endless ways to use milk crates as shelving; here's a few of the best to get you started.
Why Choose Plastic Milk Crate Shelves?
Before looking at the different ways milk crates can be used to create shelving, it's worth pausing just for a moment to consider the reasons why. There is a multitude of shelving available in the stores, so what makes milk crates so special?
Plastic milk crates are cheap to buy, and as they're made from heavy duty plastic, they are also extremely strong and tough. Designed to be used to carry heavy bottles of milk time and time again, they will stay in prime condition for many years, even with heavy use. This means that you won't have to worry about shelving suddenly crashing down or wearing out after just a short time of use. The heavy-duty nature of the construction means that the milk crates can handle even large weights for as long as you need.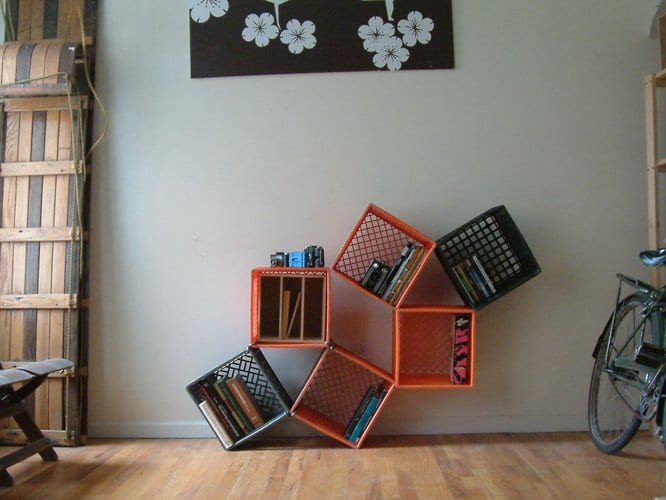 If you're not a fan of self-assembly you may well delay getting shelving because of the complicated instructions, you'll inevitably have to wade through. With milk crates you'll already have the basic shape constructed; you simply need to fix to the wall or combine crates together to create the storage space you need.
The gaps in the plastic mean that it's easy to attach crates to the wall if needed and if you look for crates which are stackable, all you need to do is simply clip them in place. If you need extra strength you can use pull ties to strengthen the bond.
Portable Milk Crate Storage Shelves
If you need shelving which is spacious and flexible, there's nothing better than a portable unit. Although milk crates can be very easy to lift and move, by getting a little creative you can enjoy a storage unit which you don't have to dissemble to transport.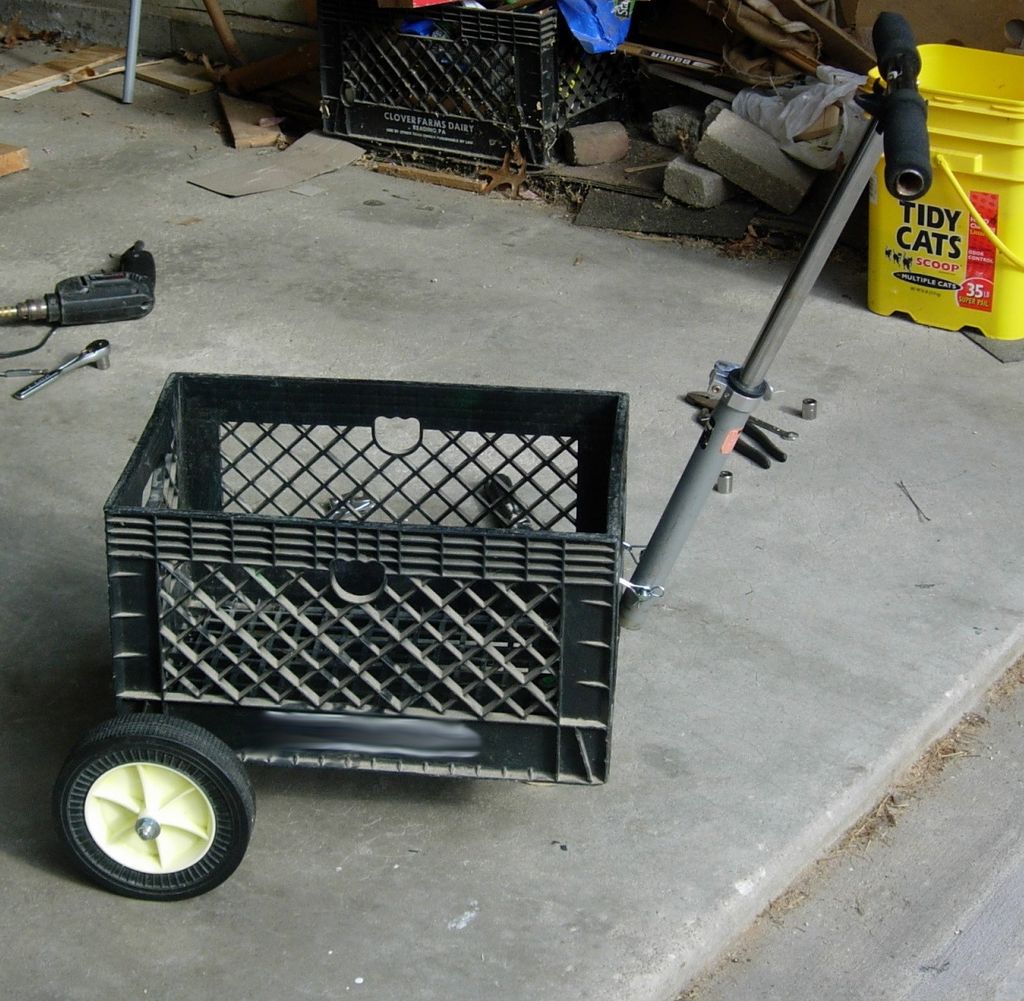 You can stack plastic milk crates while they are on their sides, locking them into the right position to provide convenient access. DIY milk crate shelves are easily accomplished simply by slotting four together, two up and two across.
To make these milk crate storage shelves portable, all you need to do is attach castors underneath. These can be purchased cheaply from hardware stores and will instantly transform your unit, making it easy to move around your home.
Bright and Colorful Plastic Crate Bookshelf
Bookshelves are an important part of your child's room, providing easy access to reading material and encourage a love of books. Bright and cheerful colors can help bookshelves to appeal to children instantly, as well as fitting in with the rest of the decor.
Plastic milk crates are available in a range of colors, which is perfect for a child's room. The hard-wearing exterior is easy to wipe down and clean while the range of colors offers a variety to choose from.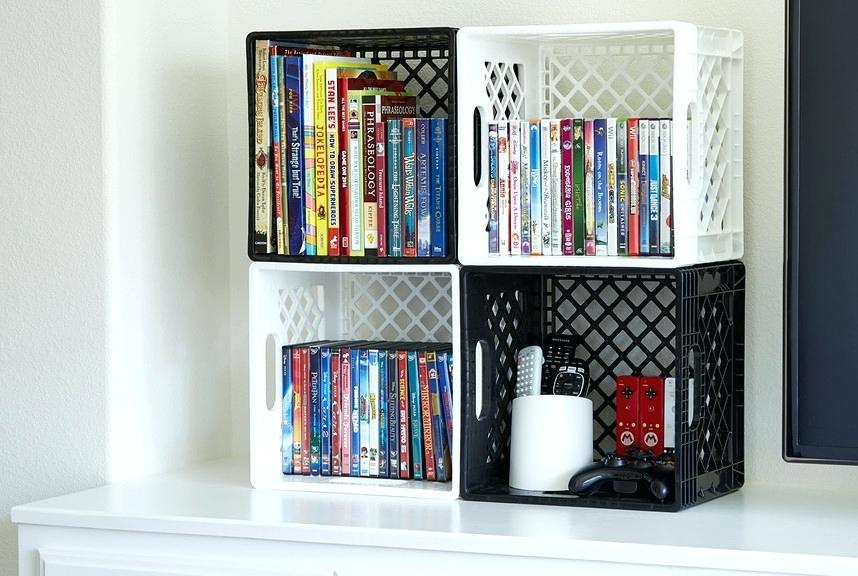 ​Creating a milk crate bookshelf is simple, and the best part of all is that you can choose the size you want. If you have the space for extensive shelving, put more crates together, but if you are limited, a single milk crate or two will still provide lots of room for books.
Choose milk crates that are designed to stack on their sides as well as in the conventional way and you'll find they are a heavy-duty type of shelving which looks good and is durable too.
Feature Shelving
You've probably seen modern shelving which boldly takes center stage; rather than being a subtle accent, the room is styled around the shelving on the wall.
This shelving can be arranged in a variety of patterns, with off-set shelves at angles or the creation of geometric shapes. Plastic crate shelves are excellent for this type of feature shelving, as the square and rectangular shapes mean you're halfway there already!
For shelving that will instantly draw the eye and grab attention for all the right reasons, the plastic crates simply need to be affixed to the wall. Either line them up straight or tilted for the design of your choice.
No matter what type of feature shelving you want, you'll still find it functional and practical too. All four sides of a crate are strong and durable, so you'll be able to use every available inch that's on show.
Space Efficient Plastic Crate Shelving
If space is at a premium in your home, then good shelving is vital to keep everything organized and neat. Milk crates are even more useful in these situations because they offer more storage solutions per square inch than other types of shelves on the market.
Once you've fixed your plastic crate shelves to the wall, you'll find lots of ingenious ways to use the space but don't think of just traditional storage, you have to think out of the box. Quite literally….
The holes in the plastic of the crate are so strong and sturdy that you can use the outside of the box for additional storage. Use the interior of the crate for storage as usual but the exterior can be used for items such as ties and belts. You could even use it as a form of funky shoe storage for stilettos by pushing the heel through the hole! And if you really need to maximize the space, you could thread a clothes hanger through the gap to open up a whole new world of possibilities.
As a uniform size, plastic crates are easy to fit into even the smallest rooms and will solve your storage problems while also giving you a fresh and modern look.
Retro Styling for your Records
Milk crates are designed to hold lots of weight, so you'll find them ideally suited for when you need a heavy-duty solution. Rather than fixing the crates high on the wall, they can be stacked up and spread out to provide the base for a table or unit.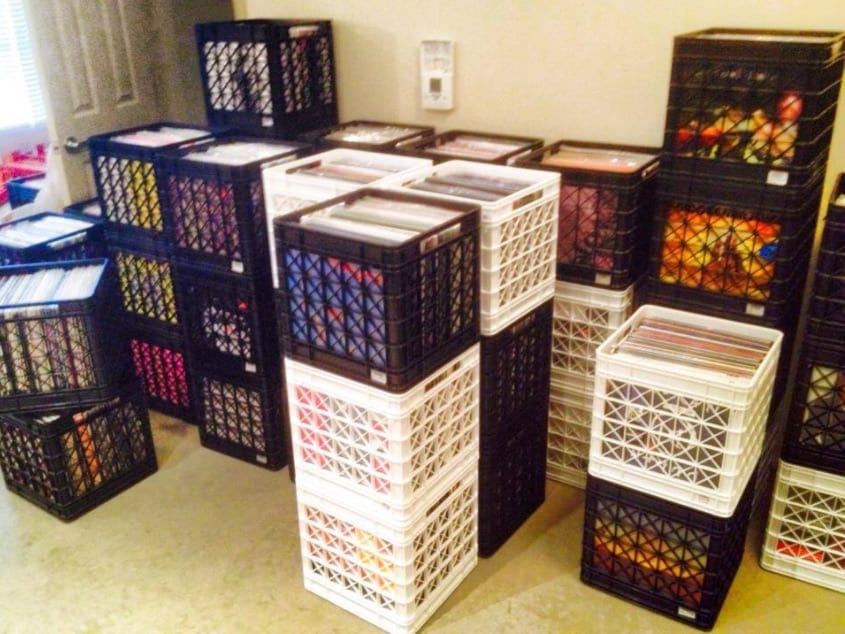 ​Two crates high and either two or three across, topped with an attractive worktop, and you'll have a unique and charming sideboard. You can attach the crates to the wall to provide additional stability, as well as affixing them to the countertop and you'll have a practical space as well as new storage.
This kind of unit works well for storing your vinyl records; plastic crates are the perfect dimension for this. With a strong and stable surface, you can keep your record player on top, so your favorite tunes will never be far away!
Keep your Shoes Tidy with Plastic Crates
Keeping muddy shoes away from your clean home can be a constant battle but all too often the alternative is a messy pile of footwear near the entrance. Milk crates are a great size for shoes and can make an interesting and attractive storage shelf.
You can adapt the number of crates you use depending on the room available. If you're short on square inches, a single crate can offer considerable storage for shoes. To organize the space even better, use the handle holes to run a divider through horizontally. This will provide two good-sized shelves within the single crate that can be used to keep footwear neat and tidy.
If you have more room you could opt to use three crates, with two stacked on top of each other and the single remaining crate alongside. This provides a space for taller footwear such as boots to be placed on top, without looking awkward or untidy.
Regardless of whether you choose a one or three crate combination - or even two crates! - if you're handy with a glue gun you could embellish your crating even further. Using wadding covered by fabric, glued into place, it's simple to create a stylish seat to go on top of the crates, ideal for sitting down to remove those shoes!
Endless Ideas for Plastic Milk Crate Shelving!
The above ideas are just a few ways to create innovative shelving solutions that look good too using plastic milk crates. You can buy milk crates for just a few dollars and as well as choosing the size, you can pick your own colors too! It's never been easier to transform your home and put together shelving. Quick, easy and with the minimum of work, milk crates are the ideal shelving for every home.